Welcome to Prague
We are delivering the best possible service to our clients; therefore, we have launched our new program to enhance your satisfaction. You are one of the first whom we are sending important information about Prague. In this issue you can find information about Prague concerning weather, safety, locations, events and more. We hope you will like this service and please we are open to any suggestion Thank you very much.
See the location of POI in Prague 1

Zobrazit místo Point of interest near apartment na větší mapě
As you know your apartment is centrally located. Please check this map to get familiar with Point Of Interest like gym, wellness, massage, biking, tennis, swimming pool or squash near your apartment.Furthemore, you will be briefed by our receptionists where can you find other imporatnt spots and addresses. Detailed map of Prague centre will be included during the check-in.
To see golf courses, please visit this link of czechgolf
Culture in Prague
Prague is a true cultural treasure trove, bursting with fascinating museums, galleries, theatres, and music venues. The city regularly plays host to numerous prestigious exhibitions, events, and more international festivals than you can shake a very large stick at.
Useful links:
Prague Information service
Czech National Museum
Czech National Theatre
For DVD rent please see our map
Apartment's electronic equipment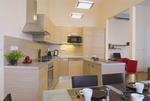 DVD
You can use the home cinema set to play DVDs and CDs, you will find how to control it in instructions for SAT/TV.
Diswashing Mashine
n the kitchen line is built dishwasher. Dishwasher has 5 cleaning programs. For the selection of the correct program, please see the attached table.Place the tablet into the dishwasher, turn the washer main switch, set the washing program number 3 for the standard dirty dishes after a big lunch. If you have dirtier dishes, use the number 4.
As detergent use only the special tablets to washers, which are prepared on the kitchen line. Never spill into washer liquid detergent intended for hand washing!
Microwave
There is a built-in microwave in the kitchen line . Oven has various programs for automatic cooking, which are described in more detail in the instructions. We recommend you to read the instructions before use. For quick service of heating and thawing set the symbol "hours - the mass" for required time and start the cooking process by pressing "Start / Quick". Glass porcelain and plastic utensils in the kitchen line are suitable for use in a microwave oven. Please, do not use metal utensils and utensils with metal parts!
Washing Machine
Washing machine and drier control is described in instructions. You can also use our service of delivering to a laundry, see "LAUNDRY/DRY CLEANING".
For your needs, there is a washing machine with dryer and equipment for ironing. If you wish to use a laundry or dry cleaner, we wiil arrange delivery of your clothes to a laundry for  100 CZK + the price of services. To arrange, please contact our office.
Central heating
Central heating is installed throughout the house. Set the thermostat to the required temperature in º C (20 º C = 68 F). Set the radiators to the required intensity, preferably to 3 *. Heating works only in winter. For heating during summer use air conditioning. See air conditioning.
Safe
Please, put all your valuables into the safe in the wardrobe. You have to set a code everytime you open it. When you close the safe, set a new code (numbers 1-9) and #. The safe is closed when a green light appears.
Hob
A hob is fitted in the working plate. For heating, press the knob to the demanded plate and set the intensity of heating. At the end of cooking, turn back to the off position.
Ironing
There is a steam iron and ironing board for your needs. Ironing of your clothes during the cleaning service is a paid service, for 180 CZK / 1 hour. Please, arrange your ironing at least one day in advance.